The Suzuki Swift Sport: CAR's first impressions
---
---
Admin08.08.2012г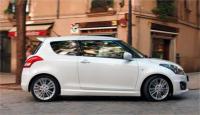 The Swift has now been with us for a few weeks and you can read our full first report in the August 2012 issue of CAR Magazine on sale now. It's proving popular with the CAR team, many of whom remember making the last-generation Swift our car of the year back in 2005.

This latest generation is a tad bigger in every dimension – we're talking stretched by a centimetre or so – so it remains a bijou supermini, which is proving ideal for day-to-day duties. I've yet to resort to family duties in it with children in the back, but I'll be sure to test out the rear accommodation during this test. What I can confirm at this point is it's perfectly comfortable in the front, even for a 6ft 2in lanky driver like me.

There's something pleasingly just-right about the package. In my mag review, I asked whether it was time for a Slow Car movement, in the same vein as the Slow Food movement. One where we don't obsess over horsepower and more of everything. One where we applaud smaller, lighter cars with the emphasis back on the basics. We've seen Mazda succeed with its MX-5 for this very reason, and it looks like the motoring world is equally switching on to the Toyota GT86 and Subaru BRZ twins.

After these first few weeks getting to know the Swift, I'd say we'll end up saying the same about the new 2012 Suzuki Swift Sport. It serves up just enough performance to sate my warm hatch wants. It's small enough to be city-friendly, yet capacious enough for my day-to-day driving. And it's bristling with sportiness – not Usain Bolt 0-60mph obsession, but with a general athleticism borne of its 1045kg kerbweight. It's highly chuckable and you can extend it further than a full-bore hot hatch at lower speeds.

Less, so far, really is more.